Uniform
Boys
􀈈 Grey Trousers
􀈈 White or grey shirt
􀈈 Bottle green jumper with school crest
􀈈 Blue, grey and green tie - available from school
􀈈 Black shoes
􀈈 Summer term – grey shorts

Girls
􀈈 Grey skirt or pinafore
􀈈 White shirt
􀈈 Bottle green jumper/cardigan with school crest
􀈈 White knee socks or green/grey tights
􀈈 Blue, grey and green tie - available from school
􀈈 Summer term – green and white checked dress
􀈈 All head/hair accessories should be of school colours
We would ask you to purchase flat black shoes for your child which he/she can open and close by himself/herself. For PE children in Primaries 1 – 3 should wear plimsolls. These should be labelled and brought in at the beginning of the school year and kept in school.
Primary 4 – 7 pupils must wear the correct PE uniform. This consists of a green round neck + shirt with school crest, navy blue shorts or tracksuit bottoms. These are available to buy at J & R Fashions, North Street, Lurgan.
PLEASE ENSURE THAT ALL ITEMS OF CLOTHING ARE CLEARLY
MARKED WITH YOUR CHILD'S NAME.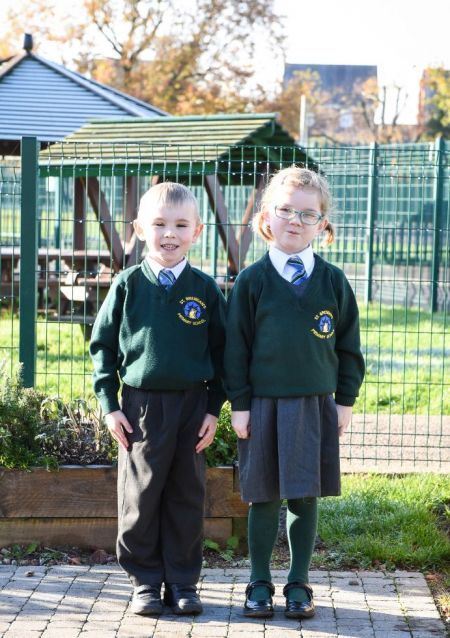 When we surveyed our parents, 100% of respondents
said that St Brendan's is well led and managed
(Parent Survey 2016)
St Brendan's Primary School and Nursery Unit, Moyraverty, Craigavon, Co. Armagh BT65 5HS Phone: 028 3834 1037